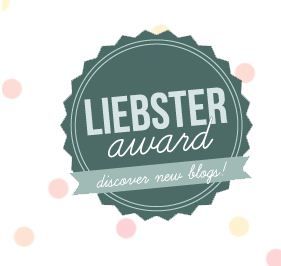 I'm so grateful to have wonderful readers - words cannot describe the butterflies that fill me up just knowing it! So anyways, I was nominated 4 times for the Liebster Award by MAGS, LYDIA
, BYE KITTY, & BRIDGET! How awesome is that - I feel so honored! If you don't know by now, this award should be given to up-and-coming bloggers who have less than 200 followers. My post is extra long because I wanted to answer the 11 questions I received from those that nominated me. I know I should expedite this so let's get started.

The Rules

* Post 11 random facts about yourself.
* Answer the 11 questions the nominator(s) asked.
* Nominee should come up with 11 new nominees and 11 questions for your nominees to answer.
* Nominees should link back to you on their Liebster blog post.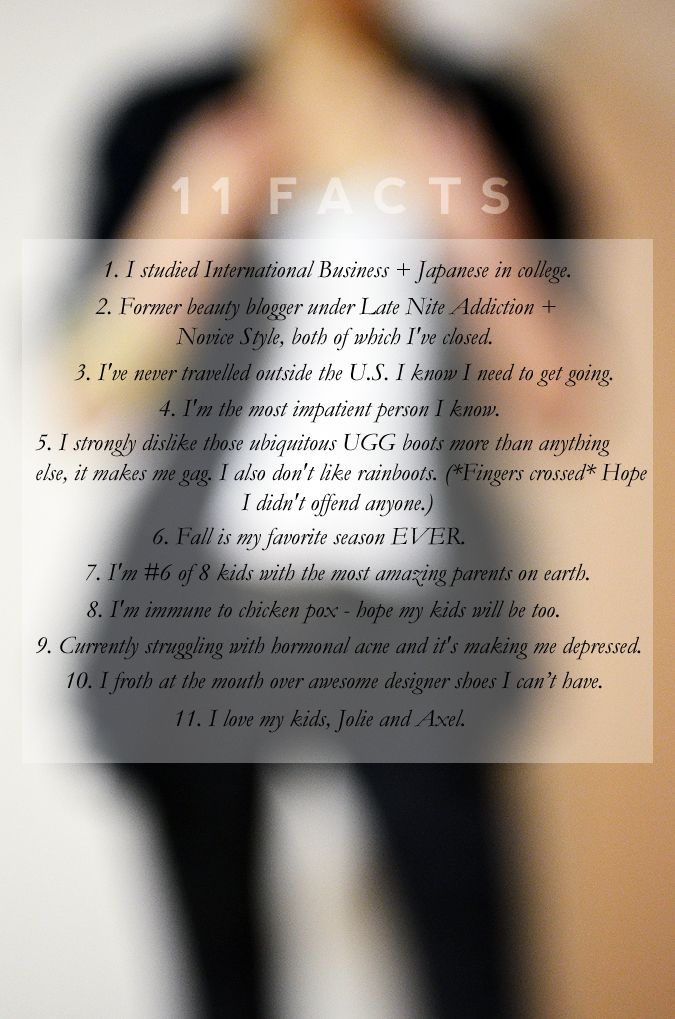 Answers:
MAGS
1. Designer or high street? Depends - Designer musts: Denim, handbags, shoes (occasionally), watches; High-street preferences: Trendy items, jewelry (because I don't take good care of them), one-night dresses, things like that...
2. Food? Sex? Or fashion? Pick one. Fashion, duh!
3. Olivia Palermo's wardrobe or Rihanna's wardrobe? Team OP.
4. Kurt Geigers or Jeffery Campbells? Hard decision, but JC because there's a pair I'm absolutely lusting right now.
5. Mulberry or Celine? Hands down Celine!
6. You win the lottery. First purchase; holiday or shoes? Shoes!
7. No mascara or no concealer? No concealer.
8. Beach holiday or ski holiday? Beach any day.
9. Down and dirty at a music festival or FROW at a fashion show? Fashion show.
10. Vogue Magazine or your favourite book? Favorite book.
11. Real fur or faux fur? FAUX

LYDIA
1. Sum up your style in one word. Simple.
2. Who is your favourite designer? See About - Isabel Marant, Prabal Gurung, Proenza Schouler, Rag & Bone, Max Azria...
3. Coffee or tea? Coffee.
4. If you could time travel, what time period would you go to and why? 90s - To take full advantage of the fashion freedom then & make some changes.
5. If you could change one thing about your life right now what would it be? My JOB.
6. Favourite colour? Easily White.
7. What is the one biggest regret you have in your life up till now? Not willing to take unpaid or low paying internships in college.
8. If you have to write a message in a bottle, what would it be? Just do. And be.
9. Name the one thing you look forward to the most in the future. Career change.
10. What do you think will be the big colour trend next season? I don't really focus on trends so I couldn't guess. Black & white? Does it count?
11. If your house caught fire and you have to salvage one item from your closet, what would it be? Chanel bag - my most expensive piece.

BYE KITTY
1. If you could visit a foreign country right now, which one would it be? France.
2. What do you like to do on your spare time? Blog or read blogs. Practice taking pictures.
3. Black or white? White.
4. What type of shampoo are you using at the moment? Clear Volumizing Shampoo.
5. What is your favourite animal print? Leopard.
6. Name the person you can't live without! God.
7. If you could speak another language which one would it be? French.
8. Lipgloss or Lipstick? Lipstick.
9. What annoys you the most? Not trying.
10. Who is your favourite celebrity? Joseph Gordon Levitt! - Actor
11. Ice-cream flavor? Coffee or Strawberry cheesecake.

BRIDGET
1. What is your natural hair color? Blackish brown.
2. What is your favourite piece of artwork? Anything by Van Gogh, Andy Warhol, or Salvador Dali.
3. If you could have any job in the world, what would it be? Buyer or blogger or for a Fashion magazine.
4. Why did you start blogging? For the awesome community, to refine my personal style, & to get away from my reality.
5. What makes you feel beautiful? A good pair of heels.
6. What is your most treasured item? My kids & family first, then the Chanel bag.
7. Who is your favourite band/musician? As of late, I've only listened to Christian music so anything in that range.
8. What is your favourite movie? The Dark Knight Rises
9. If you could live anywhere in the world, where would it be? New York.
10. What is your favourite nail polish brand? I don't wear polish daily, but it would be OPI or Essie.
11. How many siblings do you have? 7 other.

I Nominate:

Karen of Reverie Belle
Louise Lam of Dream Dust
Jess of MsJess
Lucy of Lucy Cole
Andrea of VA Darling
Chrissie of Chiisakute
Clarisse of Dive into Pastels
Necole of B3lla Cara
Laura of 905 Metros

Note: Okay, I know I suck. I failed at nominating 11, but I haven't found enough new blogs with less than 200 followers or the ones I'd like to nominate have already received the award. I can update this as I go. Thanks!

I Question Those of You (Above):
1. Describe your style.
2. Who's your style icon & why?
3. Favorite blogger(s)?
4. Clothes or accessories?
5. Shop online or in stores?
6. Favorite makeup artist?
7. If you could choose only one makeup item to have for the rest of your life, what would it be?
8. Favorite place in the world?
9. Favorite YouTuber?
10. Dream job?
11. Cupcakes or macaroons?

Many thanks again Mags, Lydia, Bye Kitty, & Bridget for nominating me. Have fun everyone else & keep the love going!